We are Amon and Javier from Missouri

Stay-At-Home Parent? No

Adopted Children at home? Yes

Biological Children at Home? No

Pets? No

Gender Preference? Either

Ethnic Preferences? Caucasian, Caucasian/Hispanic, Caucasian/Native American, Caucasian/Pacific Islander, Hispanic, Hispanic/Native American, Hispanic/Pacific Islander

Amon

Occupation: Studen Loan Counselor

Education: B.S.

Religion: Spiritual

Hobbies: Hiking, Camping, Woodworking, Landscaping

Javier

Occupation: Director of Customer Experience

Education: B.A.

Religion: Spiritual

Hobbies: Hiking, Beach, Movies, Books, Video games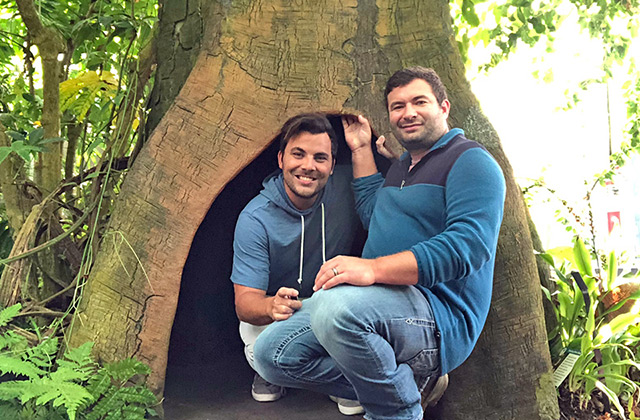 From Our Hearts to Yours:
We are ready to welcome your child into our hearts and home and to take on the amazing task of being parents: a task that will never end, even after they have grown. We will continue to support them, cheer them on and celebrate all of their successes.
From Amon: We first met on a cruise ship and felt an immediate connection. Little did I imagine this perfect, one-of-a-kind, selfless, independent and full-of-life guy was embarking on the same adventure as I. I am so fortunate to have met someone with similar, if not identical values where family comes first. Javier is by far, the most kind and caring person I know. His love for all those around him is shown through random acts of kindness, volunteering at the animal shelter, feeding the homeless and even coaching his employees. He is the other half that makes me whole. The joy and love he shares for family and friends is going to make him an amazing father and I could not have chosen a better person to raise a child with than Javier.
When Amon proposed to me and I accepted it was because my heart said he was the right one. Amon is so loving and he has such a special sparkle that makes anyone he meets feel that they have known him their entire life. My family loves Amon as much as I do, and while they may live in Florida, I find him frequently talking to them on FaceTime. Amon has been the most supportive husband I could've asked for, whether it is supporting me to achieve my professional dreams or making sure that I always feel loved and supported. I cannot wait to see him holding our baby for the very first time, and in that moment, when it comes, it will be the moment all of our dreams have come true.
Our family is huge and we couldn't have asked for a better one. When we told them we were starting the adoption process, they celebrated with us and they can't wait to make your child a part of our family and share with him or her all of the love they have. The cousins are ready and waiting for play dates with the newest member of the family. This will be our first baby and we know our mothers will be there for us, to guide us through our first steps and to give us those tips that only Grandmas can give. Seeing our parents love and play with our nieces and nephew makes us dream of the day when they will be giving our baby that Grandma-love that we all remember. Our siblings will be amazing aunts and uncles, and will be there for your child as well.
As a family we love to go to the beach, laugh and have fun as our Latino side of the family loves to do. Your child will learn all about the cattle on Amon's family's farm. They'll learn how to ride horses and play with all of the different animals on the farm: pigs, goats, chickens, dogs and cats. We also love to travel, and can't wait for your child to join us on our future vacations or just getting cozy at home on movie nights where we will watch the latest children's movie in our home movie theater. We can't wait to celebrate our family traditions with your child, like having fun on the 4th of July, sitting down to a delicious family meal on Thanksgiving and having each person share what they are thankful for, waiting up for Santa Claus on Christmas Eve, and our favorite family tradition that we can't wait to share with your child is celebrating New Year's eve which is a huge tradition in our family where we like to go out of town and welcome the New Year in, in a new and different place every year.
Considering adoption for your child is such a selfless act, and should you decide that we are the family you are looking for, your child will always know how brave you are, and that you loved them so much. We would love to talk with you and hear what your hopes and dreams, fears and concerns are for your child, and together our three hearts can come together and provide a beautiful life for your child.
We think you are an amazing person for considering adoption, our dream of being parents would not be complete if it wasn't for you and we will always tell your baby the amazing mother they have. You will always hold a place that will never be replaced, and when we think about you, we will smile and thank you for choosing us to give your baby a loving family.
Amon & Javier