Can I Give Up My Baby For Adoption After I Give Birth
The short answer is yes, you always have options when it comes to finding the right fit for you and your child. You can place your child for adoption after you've given birth and you can also make an adoption plan at the last minute, even while you are in labor. Below you will find the answers to your questions regarding last minute adoption options as well as those pertaining to what your options are after the birth of your child. If after looking over the article you still have some questions or would like more information about the options pertaining to your personal situation, contact Courageous Choice. We will clarify or elaborate on whatever information you require.
I'm in labor, can I make an adoption plan now?
You can call Courageous Choice 24 hours a day. They will help you find a family who will be thrilled to adopt your child and provide an immediate, permanent, loving home for him or her. We have pre-screened, hopeful families that are waiting to bring a child into their home. We can even send you links to several families' online profiles so that you can choose the perfect family for your baby. The Adoptive Parents will come to the hospital as quickly as possible to pick up your baby and, if you wish, give you the opportunity to talk to and get to know them a little.
You can call Social Services (or the hospital will contact them upon your request) and your child will be placed in foster care. If this happens, you may or may not be able to regain custody of your child at a later time. If you can't regain custody, your child will remain in foster care until the courts officially terminate your parental rights and he or she becomes eligible for adoption.
I already had my baby, can I make an adoption plan now?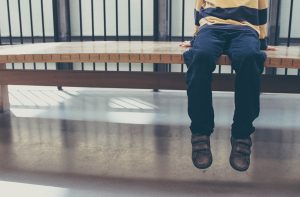 Yes. If you are still in the hospital or even at home with your child and feel that you cannot take care of him or her, you once again have two options not dissimilar to those listen above.
Even if your baby is a little older, you can still call Courageous Choice. We have a number of families who are interested in adopting an older child (up to around 2-years-old). If you like, you will be able to choose the right family for you, and both you and your child will have the opportunity to meet the family in order to make the transition as easy and smooth as possible for you and your child.
You can also work with Social Services and they will find a foster family who can take your child in temporarily. Your child may be transferred between several homes or taken to a children's home for care. Again, you may or may not be able to regain custody of your child.
What if I Choose Foster Care for my Child?
Foster Care Placements can be planned for prior to birth, but the final decision to place a child into foster care won't be made until after the birth of the child unless children's services has determined it would be a danger for the child to go home with you. In that case, the child would be placed directly into a foster home and long-range planning would follow. Whether or not it was your decision, once your child is placed into foster care, you will receive counseling on what that placement means in terms of your rights for visitation, adoption planning or the necessary steps required to be able to take your child home.
What about the baby's father? Can I give my baby up without the father's consent?
The baby's father has rights that need to be terminated before any adoption can be finalized, and under certain circumstances, this can be done without his consent.
The issue of parental rights in regards to the father can be a little complicated. The only surefire way to ensure a smooth transition in guardianship over the child, both short-term and long-term, would be to incorporate the birth father in the decision to place your child with adoptive or foster parents. If the father is not consulted in the matter, it can cause some problems in the future if he decides that he wants custody of the child.
That being said, it depends on your individual situation as well as the laws of the state in which you live. One of the main considerations is whether the father is considered a 'legal' or 'putative' father in the eyes of the state. If the child's father is considered to be the 'legal' father (i.e. you were married at or around the conception or birth of the child) then there is a significantly greater chance that he would need to be consulted regarding an adoption. However, if the father is considered 'putative' (allegedly the biological father but whose paternity has not yet been established) then it is less likely that he would have to be consulted regarding an adoption decision.
Here are some of the instances where you may not have to include the father in the decision to place your child with a family:
Father is not known or is "out of the picture" – Some states have a Putative Father Registry that requires the father to sign up in order to protect his rights and if he fails to do so you may not be required to inform him as to your decision
Father is unsupportive – in many states if a father fails to provide financial support during the pregnancy then he may forfeit his right to contest an adoption.
Father is abusive
Father is in jail
But ultimately it is best to contact an adoption agency or adoption law office that can offer advice to your specific situation while taking into consideration your state's laws. The nuanced nature of the issue is why it is important to work with an adoption entity familiar with Birth Fathers' rights that can help to protect you, your baby, the adopting family and the birth father.
What if my family doesn't want me to give up my baby?
While it is always easier to have a support system, this is completely your choice and it is important to remember that, regardless of what they think, you are the one in control over the situation. There are a number of ways that you can show them that you're in control while simultaneously educating then on adoption.
Make sure they know that YOU choose the adoptive family and that your child will end up with a family that you are sure will provide the best life for him or her.
Let them know that YOU choose the amount of contact that you have with your child. That in most cases you can have an open or closed adoption. That you can still maintain contact with your child if you so choose.
You know what you're doing. Explain to them why this is the best option for you and your baby.
Lastly, if they are still against your choice then it is important to reiterate that it is ultimately your decision and yours alone.
As always, your Adoption Advisor can help you with this and even speak to your family on your behalf about your decision.
Can I get help with the hospital bills?
Yes. Regardless of what you decide as the best course of action for you and your baby, there are a few avenues through which you can receive some financial help with your hospital bills. If you do not have health insurance or the means to pay for your hospital bills you may qualify for Medicaid. An Adoption Advisor can work with you and the hospital to determine whether or not you are eligible. If it turns out that you aren't eligible for Medicaid, it is still possible that you could receive financial aid from the Adopting Parent(s) to help pay for medical and hospital bills.
In a majority of states, Adoptive Parents pay for "customary and reasonable" adoption-related expenses. This link outlines all expenses that constitute "customary and reasonable."
What now?
Call Courageous Choice, or your local Social Services office to speak with someone who knows the ins and outs of all of your adoption options (included but not limited to the ones listed in this article). They will be able to answer all of the questions that are specific to you and your situation, and help you figure out the best option for you and your baby. As you know, the most important part of this equation is your child and his or her well-being.
Safe Haven
If all else fails or you prefer an anonymous option there is always Safe Haven, which is a national program that allows you to place your healthy infant in the hands of a "safe haven" location without having to provide your name or sign any papers. The main stipulation here is that the infant must be in good physical condition. If you change your mind for any reason, you have a specified window of time to return and ask for custody of the infant. If you do not do so, the local court will terminate your parental rights and locate a permanent adoptive home for the infant. State regulations vary and determine the age window for accepted infants (ranging anywhere from 3 days after birth to a year) and the time period that you are provided to return and ask for custody. To find out your state laws simply go to http://safehaven.tv/states/ and click on your state. The site will provide you with Safe Haven locations as well as your state's laws regarding the age of accepted babies. Safe Haven can also refer you to services during your pregnancy or after the birth of your child.
Safe Haven Locations (Available on a state to state basis):
Hospitals
Police Stations
Fire stations
Birthing Station
EMS Provider/ Emergency room/ Clinic
Welfare Agency
Church/Worship Center