Can I Give Up My Baby for Adoption When I'm in Jail or Prison?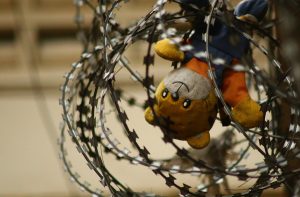 Are you dealing with an unplanned pregnancy in jail, or going to be in prison while pregnant? If you are, or know someone who is, things are not as dire as they might seem. There is hope for you in finding the right place for your baby and through research you will find the answers you are looking for and the right path for everyone involved. If you are a friend or family member to a pregnant woman in jail, you can help her as well by contacting an adoption entity on her behalf and working with her lawyer to get her the information she needs to create an adoption plan in prison. We at Courageous Choice have worked with many jails and prisons to support women considering adoption while incarcerated.
You're not "Giving Up!" You're Giving Your Baby a Better Chance
Whether you are already in jail or facing jail time you will want to carefully consider your options. If you are already in jail, ask the prison official or your case worker for help. There are options for you and for your baby. You can:
Place your baby for adoption with a family that you choose
Place your baby with family members or friends – temporarily or permanently
Some prisons allow the baby to stay with you in prison for a period of time
Allow Social Services to place your child in Foster Care
Each of these options may seem overwhelming and incredibly difficult, but with time and research things will smooth out and you will decide what is best for you and your baby. Having a clear plan for yourself throughout your pregnancy will make the process a bit easier for you. Ensuring your baby will be taken care of and have the life you want for him or her makes you an incredibly unselfish mother. Always remember that!
Choosing Adoption
Should you choose to place your baby for adoption, selecting a professional adoption organization will be one of the first steps you will need to make and is vitally important to your journey in finding a home for your baby. If you know you will be going to jail, it's best to make arrangements with your adoption professional beforehand. If you are already in jail, a family member can contact them for you, and work with your attorney to get you the information and paperwork you need to choose a family to raise your baby. If your family or attorney isn't able to help, or they deny the request, ask to speak to your prison case worker. They will do some research for you and find an organization that will help. You or your case worker can contact Courageous Choice at any time.
Once you have chosen an adoption organization you will be assigned an Adoption Advisor. This is the person who will be there for you and help with any questions or issues that come up. They will work with the prison or jail system to allow you to use the phone to call them when necessary. They will guide you and help you understand the process throughout your pregnancy, the birth, the adoption and possibly staying connected with the family you have chosen. As the Birth Mother you will have many questions and concerns. Your Advisor will be there for you as much as possible and help find the answers to questions like:
How do I pick the right family?
What's the process in choosing a family for my baby?
Are there any costs involved?
What happens after the baby is born?
Courageous Choice will be there for you throughout every step of the process. It's important for you to remember you are doing this to give your baby a life that you will not be able to in prison.
Finding an Adoptive Family for Your Baby
Even though you are an expectant mother in prison the option of placing your baby with an adoptive family of your choice is available to you! We know how difficult the decision of giving your baby up for adoption can be, and that doesn't change for a birth mother in jail. It's a difficult road for anyone to navigate and possibly more so if you are pregnant and in jail. You will not have the freedom others do. Try not to be discouraged! This is a gift you are giving your baby in the form of a good and happy life with a family that can provide for them. You have people you can turn to for help.
Even though you are in jail, you still have rights as any Birth Mother wanting to place their baby for adoption. You will be the one to make the decision on who that will be. You can let your Adoption Advisor know what type of family you are looking for, and she will help you find the right one for your baby. A phone call with the family may be arranged, but possibly not. This will all depend on the details of your circumstances including security of the prison and the duration of your sentence.
Can I Place My Baby With a Family Member or Friend?
While this is definitely an option and may sound like the best one for everyone involved, you will want to carefully examine this process before you decide. Depending on the length of your sentence, you could either look at having a family member or friend permanently adopt your baby or have your baby placed temporarily with them. If you are serving only a short sentence you could place your baby temporarily with a close member of your family or a close friend. Depending on the placement guidelines, your baby would then be given back to you once you are released. This option might alleviate some of your anxieties while in prison, but you should carefully look at the environment your child will be living in. Will this be the best situation for them to grow and thrive? When you are out of jail and have your baby back will you be able to offer a healthy, positive environment to raise them? Will you be able to provide the necessary day-to-day living expenses? All of these questions will need to be thought out and answered before you decide what you want to do.
Placing your baby permanently with family or friends is another option for you. This too might soothe your anxieties knowing your baby is with family and not strangers. Again, ask yourself if this is the best option for you both. Will the family members raising your child give you the support you need? Knowing you have a strong support system while in prison, and then when you are released, will make this road a little easier to travel. While this may all seem extremely overwhelming, remember your goal is to find the best possible option for your baby which will give you peace of mind.
Can't I Keep My Baby With Me in Prison?
While this used to be an option in the 1950's, babies born in prison would stay with their mothers for the duration of the sentence, most prisons do not have these programs available any more, and if they do, it's only for a limited time. Raising a baby in jail long term is not a good option, especially for the child.
What About Foster Care?
Allowing Social Services to put your baby into foster care is a decision not to be taken lightly. Explore all other options beforehand, as this might be the toughest way to go. The foster system might not be the best environment for your baby to thrive. They will not be around family members or with a family that you were able to choose to love and care for them. There are many uncertainties surrounding the system. There is also no guarantee that you can get your baby back when you get out of jail. Having a plan allows you to make the decision of where you would like your child to go. Speak with your prison case worker about wanting to create a plan immediately so as to avoid this happening to you both.
Do Birth Mothers in Prison Have Any Hope of an Open Adoption?
Whether or not you have any contact with your baby's adoptive family after the adoption takes place will depend on many different variables. The most important will be your situation and the conditions of your sentence. There are many Birth Mothers in prison who are able to have limited contact with the Adoptive Family. Usually this is in the form of pictures and letters you exchange with them. Again, depending on your security level, you might also be able to stay in contact through the internet if a web page has been developed by the family. Sometimes families like to create a space to put pictures and announcements about the baby and their new life. Your Adoption Advisor or your prison caseworker can help you understand the layout of the adoption and the rules you will need to follow for an open or semi-open adoption. Most pregnant women in prison are able to have a partially open adoption if they choose, which means they receive photos and letters of their child after the adoption process is complete. Exactly how much contact you can have with the Adoptive Family during and after the adoption process will depend on your unique circumstances, including your security level and your sentence length.
Your prison caseworker will help you to understand the terms of your adoption and what will and will not be permitted. Written correspondence will most likely be your only form of contact while you are in jail but, again, this will depend on your unique circumstances. Usually it is up to the Adoptive Family to provide for the expenses included to stay in contact with the birth mother. These expenses might include stamps and paper you will have to purchase, or they can send it you, or, if allowed, any phone calls you make to them.
What Kind of Health Care Will I Have While Incarcerated?
Your health and your baby's health are crucially important. Being in prison does not change that. You are allowed and entitled to prenatal care once you find out you're pregnant or if you enter jail pregnant. Prison officials must provide you and your baby recommended care throughout your term and it is illegal for them to withhold this from you. This includes regular doctor visits, prenatal vitamins and healthy foods to ensure the baby's proper growth. Talk to your prison case worker if any of things are being withheld. You are your own advocate, even in prison.
As your pregnancy progresses, you will go through many changes, both physical and emotional. Know that this is completely normal! These physical and emotional changes a woman goes through during pregnancy do not change if you are in prison. You will want to visit and talk with the prison medical team to make sure you are taking care of yourself throughout your pregnancy. This will include eating fruits and vegetables and taking pre-natal vitamins. Daily exercise is important during and after. You should be allowed outdoor time at least once during the day. It will help if you don't sit but get up and move. Taking walks around the yard will not only be good for your growing baby but will help with the physical changes you are going through.
Will there be support for me while I'm pregnant in prison?
This will depend entirely on the prison you are serving your sentence. For many women in the outside world, attending parenting and childbirth classes might seem like a luxury. However, most women who are pregnant in prison have access to childbirth education classes to help them prepare for their upcoming labor. Prisons often hold classes or group therapy sessions on everything from Prenatal Care to Childbirth and Postpartum depression. They also have classes to help a mom-to-be who might be struggling with addiction or domestic violence.
Where Will I Deliver my Baby?
You will deliver your baby in a hospital. When the time comes and you go into labor, you need to inform a prison official. They will take you to the prison medical staff and obtain transport for to you to the local hospital.
Hospital Stay
Recovery time in the hospital will likely take a few days depending on your situation. It is highly likely no one but your doctors, nurses and prison guards will be allowed in your room. The moment you are medically released by the hospital, you will go back to jail.
Recovery
You must remember your body has just gone through a trauma and you will need time to heal, both physically and mentally. While the physical healing will happen relatively quickly, the mental healing could and most likely will take much longer. However, if you took the time to put a strong plan of action in place for your baby – and they are with an Adoptive Family of your choice, or with family members or friends – your anxieties will be lessened and you will have some peace of mind. Be your child's advocate by giving them the best possible chance at having a good life!