We are Moses and Nyla from Iowa

Stay-At-Home Parent? Part-Time

Adopted Children at home? Yes

Biological Children at Home? No

Pets? Yes

Gender Preference? Either

Ethnic Preferences? All Races/Ethnicities

Moses

Occupation: General Manager

Education: MPA

Religion: Christian

Hobbies: Travel, Reading

Nyla

Occupation: Dental Hygienist

Education: AS

Religion: Christian

Hobbies: Travel, Volleyball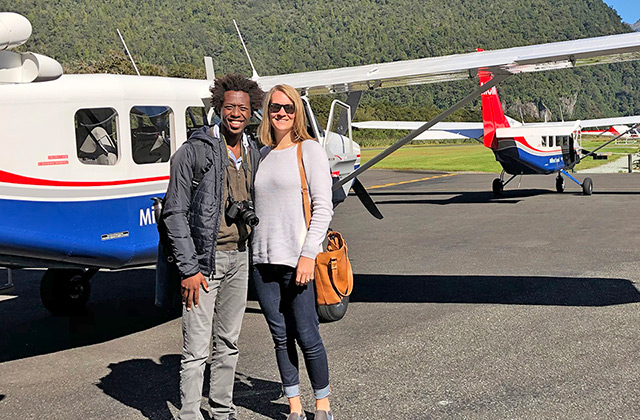 Dear Expectant Mother,
As we reflect and try to think of the words to describe the selflessness of a child's birth mother we are truly speechless. The first thoughts that come to mind are immense gratitude and humility. There is no greater gift that someone can give than the gift of motherhood and fatherhood. It is with this that we will be eternally grateful. We are not able to understand what you are going through, but we do want you to know that we realize this is one of the most important decisions you will make in her lifetime. We want you to be assured that you are fully supported. You are a great blessing to us and we will be grateful every day for the gift of life you have given us.
The most important thing to us is our faith. We met at church when we were both a part of the same small group that met every Monday night. After a year of friendship we started dating and then were married in 2016. We make an active effort to stay involved in our church by volunteering on the hospitality team and kids' ministry and also volunteering with our church in the community as much as we can.
Saying we love to travel is an understatement! In the first year and a half of Ellis' life he has traveled internationally multiple times. Anywhere and everywhere is on our bucket list. We love to experience new cultures and meet new people. Having our children alongside us while we travel is something we are so excited for! Watching them experience new things and places is one of the absolute greatest joys we have experienced as parents so far. We have a nonprofit which focuses on providing education to children in Kenya. Working on this organization is something we are very proud of and love sharing with our family. Going to Kenya and visiting the students is something that we are committed to and want our current and future children right there alongside us.
While you look at our profile and decide if we are the right family for your unborn child, we want you to know that, although life provides a lot of unknowns, there are also a few things that we know we can promise to give your child. We promise to love and cherish your child with every breath. We promise to rock them to sleep and read them bed time stories for years to come. To let them lick the spoon after mixing up a batch of cookies. We promise to be fair and equal. Kiss the bumps and bruises when needed. We promise to let them eat way too much cake on their birthdays and stay up late watching holiday movies. To not only take them to parks but also play with them at the park. To let them sit on our laps going down the slide until they are ready to do so on their own. To be the first and the last ones at the park. We promise to bend down and push the tricycle up and down the sidewalk until they are able to pedal on their own. To read the same book over and over, countless times. We promise to teach them how to be kind and respectful. How to explore the world and find the good wherever they go and in whoever they meet. We promise to encourage them to dream big and be whoever and whatever they want to be. To learn about and take part in their interests with them. We promise to love your child fiercely and unconditionally. Most of all, we promise to tell them where they came from and how unbelievably grateful we are towards you, the mother that gave us the gift of growing our family.
Moses & Nyla