We are Monty and Manju from Massachusetts

Stay-At-Home Parent? Part-Time

Adopted Children at home? No

Biological Children at Home? No

Pets? No

Gender Preference? Either

Ethnic Preferences? Asian, Asian/Hispanic, Caucasian/Hispanic, Caucasian/Indian, Caucasian/Middle Eastern, Caucasian/Native American, Caucasian/Pacific Islander, Hispanic, Hispanic/Middle Eastern, Hispanic/Native American, Hispanic/Pacific Islander, Indian, Middle Eastern, Native American Indian, Pacific Islander

Monty

Occupation: Clinical Social Worker

Education: MSW

Religion: Other

Hobbies: Music, Exercising, Cooking

Manju

Occupation: Public Health Director of Partnerships

Education: MHP

Religion: Hindu

Hobbies: Traveling, Walking, Puzzles, Cooking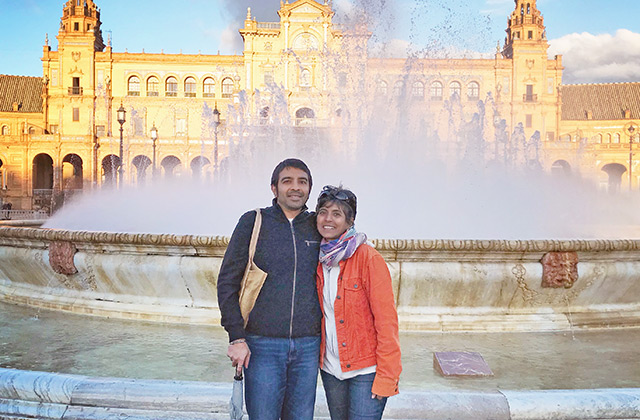 To Someone Special,
You're looking for a wonderful home and future for your child and we're looking to share our love and lives with a child and grow our family. Perhaps we're looking for each other?
We realize that you have to consider many things in making sure that your child will have the best possible future, with parents who will love and raise them to be happy, healthy and safe. Thank you for this opportunity to share a little about ourselves and our dreams for a family. Once you get to know us – Manju & Monty - we hope you'll decide that we're the right ones to take this journey with.
We often say that the universe was preparing us for each other. We met online in 2006 on an Indian dating site. We were both surprised to find someone who lived so far away with such similar values and goals, and with a desire to live a life of purpose and service. Monty was living and working in Massachusetts and Manju was living in Ghana (West Africa) with her parents, traveling often for work. After a year of traveling across the world to meet each other, we got engaged on a cold day in December. We remember that day fondly, holding each other tightly walking through town in two feet of snow, but feeling as if it was a summer moment.
Family means everything to us. We both grew up in close and loving families, connected to relatives all over the world. When we met, that was one of the many things that instantly drew us together – the importance of family and creating our own. We moved back to Massachusetts from New York to be close to Monty's family as we prepare to welcome a child into our life.
Adoption has a special place in our hearts. Manju's mother was adopted and has several cousins and friends that were adopted as well. Monty's grandmother was also adopted. Her sisters will tell you that Manju always knew she would adopt, long before she tried to have kids. We made peace with the reality that we could not be biological parents after several miscarriages. The next step in the journey was easy however, since we've always known that adoption is a special way to create a family.
Manju works for an international organization devoted to supporting communities to take control of their own health solutions. She's lucky that she can maintain a work-life balance, working from home and traveling when she needs to. Monty is a Licensed Clinical Social Worker who has dedicated himself to helping people, families and Veterans who are struggling with poverty, homelessness, and mental and physical health conditions. We feel grateful to have fulfilling and stable careers in the healthcare field and hope you will feel confident knowing that your child will always be well cared for.
We love to travel and experience different cultures and traditions, and learn from them. Manju has been lucky to live, study and work in cities across the world and Monty has been able to adventure with her too. Last summer, we went to Accra where Manju's parents live, for a family reunion. We spent two weeks reconnecting with family, playing at the beach and eating lots of great food. In December, we made a fun trip to Arizona where we got to take our 2-year-old nephew sledding for his first ever snow experience. He stayed close to Aunty Manju as he made his first snowballs. We can't wait to share this love of adventure and curiosity about the world with your child.
Our dreams of the future include building our own home, learning to garden, taking lots of family trips, exploring new countries and foods, and enjoying music from all corners of the globe. Your child will be loved by a large, extended family that is excited to welcome him or her as the newest member. Our nephews and niece keep talking about all the fun they will have with the new baby and want to share their toys. Our parents and siblings are already planning ways to support us and creating lists of the best gadgets and toys for us to get.
Manju will pour her love and positivity into your child. She will share her love of reading and guide them to be just as caring and kind. She'll show him or her how to find joy in simple moments like singing along to a favorite song or making up a silly game to pass the time inside on rainy days. Monty will take any opportunity to run around and laugh with your child, answer the never-ending list of questions with patience, and protect him or her as they safely explore the world with curiosity.
We will raise your child to be kind, respectful and brave. We hope to instill in them the courage to follow their dreams. We look forward for the opportunity to give them unconditional love and enough structure to be able to do that. We look forward for the opportunity to do that!
We admire your strength and courage, and are confident that your baby will inherit these wonderful traits. We wish you peace and strength as you make this important decision!
With love,
Monty & Manju