We are John and Amy from Minnesota

Stay-At-Home Parent? No

Adopted Children at home? No

Biological Children at Home? No

Pets? Yes

Gender Preference? Either

Ethnic Preferences? Asian, Asian/Caucasian, Caucasian, Caucasian/Hispanic, Caucasian/Native American, Hispanic, Native American Indian

John

Occupation: Pharmacist

Education: Pharm D.

Religion: Christian

Hobbies: Walking, Playing with Dogs, Watching Minnesota Sports, Gardening, Playing Trumpet, Listening to Music, Reading, Connecting with Friends and Family

Amy

Occupation: Health & Wellness Coach

Education: MA

Religion: Christian

Hobbies: Walking Dogs, Playing Games, Gardening. Crafts, Watching Movies, Exercising, Playing Pickle Ball, Dancing, Traveling, Socializing w/ Family & Friends, Laughter Yoga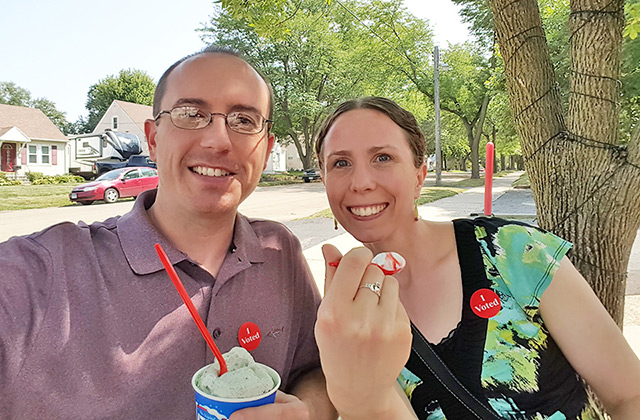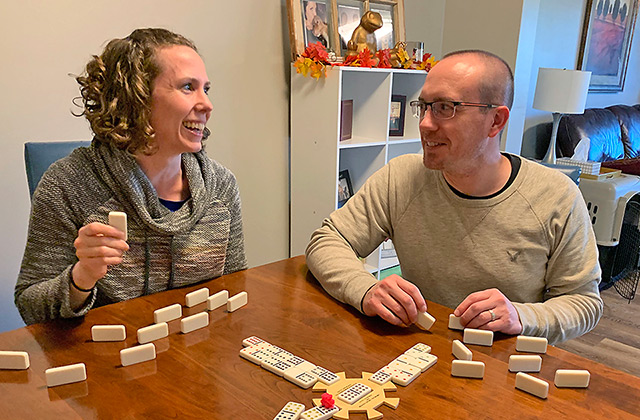 Dear Expectant Mother,
Hello! We are Amy and John. We can't possibly imagine what you are going through right now. Whatever the circumstances are that have brought you here, we want you to know that we are here for you and your baby. Thank you for considering adoption. Choosing adoption takes one of the deepest levels of love, and we will make sure your child always knows how much you love them and what you did for them. After getting to know us, we hope you are reassured that, in our hands, your child will live a life full of love, laughter, and opportunity.
Your courage gives us the chance to fulfill our dream of being parents. After going through the heartbreak of several failed infertility treatments, we realized having biological children may not be in the cards for us. This is when we chose to adopt, and it feels right. We believe this may be what God had planned for us all along. We have so much to offer as parents, and so much love to give to your child. We will love and accept your child, unconditionally.
We can't wait to share our life with your child. We have two quirky dogs, Bella and Marlo. They will welcome your child with open paws. We love living in Minnesota, and are fortunate to have our family close by. They are incredibly supportive and excited for us to adopt! We see our family often to celebrate birthdays, holidays, and do fun activities. Your child will have plenty of kids to play with, as we have ten amazing nieces and nephews that keep us busy and entertained.
Minnesota's four distinct seasons bring variety to our life year-round. In the summer we love to be outdoors grilling, playing pickle ball, and gardening. This is prime season to feed John's passion for music with community concerts and festivals. We also take a camping trip every summer with family where the kids have fun swimming and Amy gets to show off her expert s'more making skills. In the fall we love going for long walks with the dogs, taking road trips to see the colorful fall foliage, relaxing around the house, having fires in our backyard, and going to the apple orchard to eat apples right off the tree! Minnesota winters bring on the magic of the holidays with beautiful snowfalls (and snowmen and snowball fights!), drives around the city to look at Christmas lights, cheering on the Minnesota Vikings, and cozy nights snuggling on the couch by the fireplace eating popcorn and watching movies. We also love playing games and winter is a great time of year to have game nights! Spring is the start of baseball season, and we love our Minnesota Twins! We can't wait to take your child to a game. We also love to travel and try to take one big vacation every year. We're excited to have adventures with your child and help them learn about other cultures, including their own.
There is so much we want to teach your child. Your child will learn to be resilient and adaptable through the ups and downs of life. They will learn the value of kindness, honesty, and responsibility (yes, they will have to do chores!). Your child will know how much they are loved by family, friends, community, and God. They will know the value of education and be engaged in a good school system. They will know how to take care of themselves by eating healthy and exercising, and they will have access to excellent healthcare where we both work. They will learn the importance of a good work ethic, but will be encouraged to laugh and play often (Amy loves dancing, making up songs, and being silly!). We will instill confidence in your child and teach them to be humble despite the abundance of opportunity they will have in their life.
That's us in a nutshell. Thank you for taking the time to get to know us, and for considering us to be your baby's family. We are happy to answer any questions you have. We would love to get to know you, too. Whatever decision you make for you and your baby, we wish you both well.
Amy and John