We are Dane and Kimberly from Hawaii

Stay-At-Home Parent? No

Adopted Children at home? No

Biological Children at Home? No

Pets? Yes

Gender Preference? Either

Ethnic Preferences? Asian, Asian/Caucasian, Asian/Hispanic, Caucasian, Caucasian/Pacific Islander, Hispanic, Hispanic/Pacific Islander, Pacific Islander

Dane

Occupation: Teacher

Education: MA

Religion: Nonpracticing

Hobbies: Sports, Running

Kimberly

Occupation: Teacher

Education: BA, Teaching Cert.

Religion: Nonpracticing

Hobbies: Crafts, Exercising, Cooking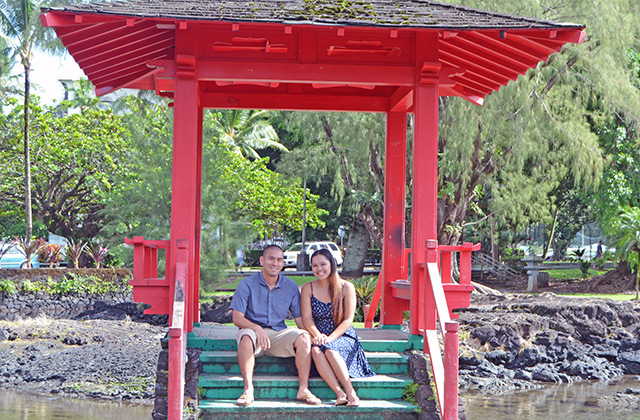 Aloha:
We are Dane and Kim. Dane is a teacher and has been teaching for over 10 years now. Kim has recently begun her teaching career and is going into her 2nd year of teaching but has been working with children in the community for 6 years.
It is through our experiences in the educational field that prompted us to adopt. We understand how special every child is and believe that every child is a precious gift. Right now we see each of our students as "our kids." We celebrate their success and work with them through the tough times. Because of our love for children, we want to be parents and eagerly await a child of our own.
Family is very important to the both of us. We live by and are very close with our families. Every week we have dinner at our family's house, where we laugh and share stories. There is always good food and good company when the family gets together. Our families are eagerly awaiting for us to become parents and welcome a new child into the family. One of Dane's brothers just had his first child, who has become the center of attention. We joke that she has the strongest finger because she just points and gets whatever she wants.
We live in such a beautiful place and can't wait to share its beauty with your child. We can't wait to go hiking in a volcano, play in snow at the top of the tallest mountain in the world, or go surfing at one of our wonderful beaches. We are a very active couple who love to exercise and move around and can't wait to share these passions with your child. Dane also enjoys watching sports, woodworking, and running, while Kim likes to cook, bake, and craft.
Growing up, our parents instilled in us that through perseverance anything is possible. This is something that we both value and want to pass down to Your child as well. We also value respect, compassion, and self-confidence. These are things that we teach our students every day and something we will teach your child.
In our house, we also have a very sweet yet spoiled Yorkie Shih Tzu named Manning. She is a loving, loyal and beautiful dog who loves to cuddle and follow us around. She blesses us with so many kisses every day. She will make for an amazing companion for your child.
We feel truly blessed that you would consider us with such a precious gift. For us, family is the most important thing in our lives. We believe that family means you will love and be loved for the rest of your life. We would welcome your child into our family and they will know LOVE, LAUGHTER, WARMTH, and JOY. Our family sticks together and we would be there for your child through every step of their life. Thank you so much for taking the time to learn a little more about our family. We await with open arms and an open heart.
Love,
Dane, Kim & Manning