We are Erik and Melanie from Wisconsin

Stay-At-Home Parent? Part-Time

Adopted Children at home? Yes

Biological Children at Home? No

Pets? Yes

Gender Preference? Either

Ethnic Preferences? Caucasian, Caucasian/Hispanic

Erik

Occupation: Communications Technician

Education: High School

Religion: Catholic

Hobbies: Brewing, Watching Hockey

Melanie

Occupation: Teacher

Education: B.S.

Religion: Catholic

Hobbies: Running, Gardening, Essential Oils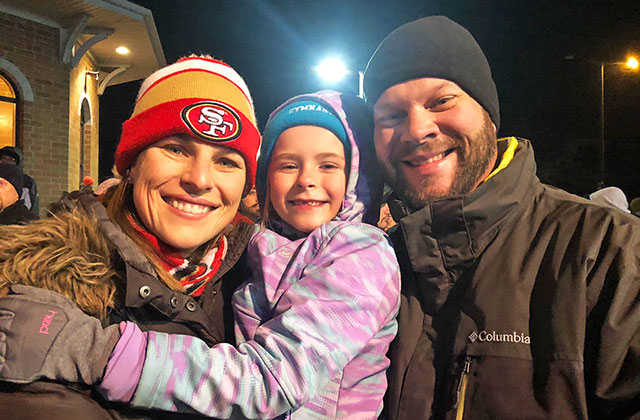 Thank you from the bottom of our hearts for the courageous decision that you are considering. Your selflessness will allow one of our dreams to come true. Know that the choices you make will allow your baby to have a full and complete life with parents that already have great love for your unborn child.
We are Erik and Melanie. We met through an online dating service in 2004. After our first date, where we talked for over 4 hours, we knew we were meant to be together. We were married on a beautiful, sunny day in 2007. Our days have been filled with fun and laughter, camping, taking trips and hanging out with family and friends. We adopted our beautiful daughter in 2012, and she has brought so much joy and laughter to our home and to our family.
Erik works for a large cable company and spends his days setting up people's homes for cable, internet and phone. He is fortunate to have 3 days off every week and spends some of that time with our daughter while Melanie is at work. Sundays we spend together as a family. Melanie is an elementary school teacher. She always wanted to be a teacher so that she would have holidays and summers home with her children. We enjoy camping, going to festivals and playing outside. Riding bikes in the summer and going sledding in the winter are some of our favorite things.
We live in a quiet neighborhood in the country with close access to the city. Melanie loves to cook and makes most of our meals at home. Nearby there are parks, swimming pools and golf courses. We have several museums and libraries in our town and one town over there is a zoo! We are so excited to be able to introduce your child to all of these places and help them to discover the world.
We are very close to both our families. Melanie's parents currently live in California but are in the process of moving to Wisconsin to be closer to us. They are so happy to be moving closer for the next baby in our family. Erik's family all live very close to us. His parents, grandma, brother and sisters are all minutes away. Needless to say we see them a lot! There is always a family cookout, someone's birthday party or just going to lunch after church. Our family is so excited to welcome one more little one into the bunch!
You are giving us a gift we could never give to ourselves. We are eternally grateful for that and wish you many blessings along your journey.
"If there ever comes a day when we can't be together keep me in your heart, I'll stay there forever." Winnie the Pooh
Blessings,
Erik and Melanie